Aug
30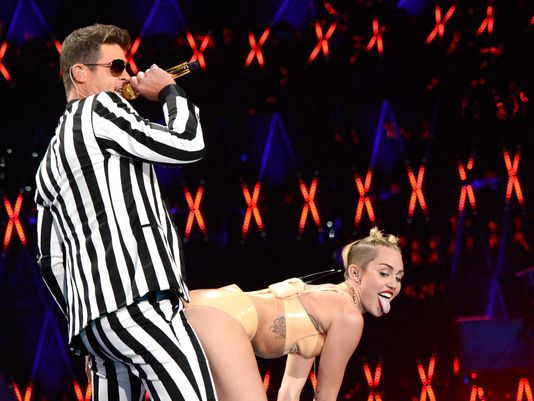 there has been an abundance of articles circulating the web on how to talk to your daughters about Miley Cyrus or how to talk to your sons about Robin Thicke after their shocking performance of Thicke's "Blurred Lines" at MTV's VMAs, but the greater conversation still appears unspoken: have you talked to your children about their shitty, shitty taste in music yet? Or more importantly, have you talked to yourselfabout how you could let you children have such shitty taste in music?
While everyone is ranting and raving about Miley Cyrus and Robin Thicke's best impression of LeeLoo and Beetlejuice doing softcore porn, we should really be asking ourselves as a society how we've let such incredibly bad music seep into our homes.
Why do your children listen to knock-offs of Marvin Gaye? Why don't they just listen to Marvin Gaye? Don't you have Marvin Gaye records lying around, for crying out loud? Marvin Gaye sang about sex, but in a sexy way. Not in a rapey way. For example: while Marvin Gaye sings lines such as "You can love me when you want to, babe // This is such a groovy party, baby" in "Got to Give It Up", a song that Thicke acknowledged being inspired by and preemptively sued the Gaye family re: copyright infringement allegations , Thicke  sings "You the hottest bitch in the place". Since this is a blog post about shitty taste in music and not about feminism, I will ignore the fact that this is an incredibly offensive lyric and zero in on the fact that "you the hottest bitch in the place" is just plain ol' incorrect English. Instead of worrying about your children watching scantily clad women being dry humped by men who could be their father, you should be more concerned about your children dropping verbs from their sentences.
Aside from the lyrics, I'm not ever sure there is a single instrument other than one keyboard in "Blurred Lines" (as semi-proved by the VMA performance; I'm not sure MTV knows what a musical instrument even looks like anymore). Remember when songs were played by a band with several talented musicians? Remember when middle class or impoverished kids got together and sang in a garage and they would mail their tape demos to label execs and sometimes, just sometimes that label exec would get all excited and phone the kids in Detroit or Minneapolis or some other cold-ass place and say, "You're going to be stars, kids!"? Remember when musicians weren't solely children of famous people?
If you're worried about your kids twerking, then teach them the "Electric Slide". That's what I did when I was 12. The Electric Slide is shitty music too, but at least it's 18 completely asexual dance moves. Hell, teach your kids the "Macarena" for fuck's sake. I'd have way more respect for your 13 year-old if I saw them being the lone nerd doing the "Macarena" at a school dance. They'll even learn Spanish in the process.
If my kids ask me why I'm so sensitive about this issue, I will tell them it's because shitty music comes from people who have money and who constantly stroke each other's big fat egos. I will tell them that, sadly, the art industries are run by people with neither style nor class, who care more for shock value that ultimately makes them more money. People who make shitty music don't care about grammar or about using instruments, and they prefer to knock-off or sample all the great work that has come before them.
It's time to take away our children's TVs, iPhones, iPads and all the other shit they shouldn't have and force them to listen to music prior to 1999. We should take our children on record buying trips. We should read Keith Richards' autobiography before bedtime (with some censoring). We should show them what a cassette tape looks like and tell them that if they make a really cool mixtape, they'll make someone fall in love with them. We should force them to listen to the uncut versions of "Stairway to Heaven", "American Pie" and "Free Bird" because they should be subjected to the same 20 minutes of radio monotony that we had to. If my daughter wants to look like Stevie Nicks, I'd proudly buy her a shawl and moon-shaped tambourine. If my son wants a poster of Frank Zappa crapping on the toilet, I would buy it and frame it over his bed. If my children end up hating me for taking away their top 40 diarrhea, I would tell them it's for their own good because I don't want them growing up to be like Miley Cyrus and Robin Thicke simply because they're shitty, shitty artists.
Aug
21
In view of recent events involving NFL tight end Aaron Hernandez of the New England Patriots, I feel that some black and Hispanic pro-athletes not only need to stay away from people places and things, but make an honest effort to act like you are too good to associate with your old homies from the block, or old street gang you used to run with. I mean to purposely steer clear of this type of element and the behaviors associated with such people.
Hernandez is only 23, and just like that he threw his life away, doing a very dumb thing; pretend to be a "gangster."
Drafted out of the then-national champion Florida Gators by New England, and playing double-tight end on some plays along with Buffalo's own Rob Gronkowski, he was just signed to a contract extension paying him a $12.5 million bonus a year or two ago. He could have gone higher in the draft, but he tested positive for marijuana. This is part of the problem of a young man with amazing talent, and bad decision-making that would cost him millions over the years.
They say the turning point for Aaron was losing his dad when he was 16. After that he was said to lash out at authority while concurrently setting records as a high school player out of Bristol, Ct. As bad as this sounds, allowing him or others who know him to use this behavior as an excuse takes credit and hard work away from other boys who lost their parents and kept their heads on straight. The children and teens who stayed out of trouble after losing an immediate family member are the ones who really keep it real.
Aaron is the one thing that today's youth culture refuses to admit; stupid. We are supposed to say 'he's baaaad.' No, Hernandez is soft. Here's a record of his soft behavior:
In 2007 he punched a bartender over a bill after 2 drinks.
In 2012 he is suspected of the double-murder of Daniel Jorge Correia de Abreu and Sanfiro Teixeira Furtado of Dorchester.
In 2013 he shot a "friend" Alexander Bradley while the two were riding in a car on 6/13.
On 6/18 of 2013, of course the case that finally busted him, the murder of Odin Lloyd a minor league pro football player.
These charges are nothing to play with, nothing to brag about or take pride in. Hernandez is essentially a boy assuming the role of single-mama's boy even though he had a dad until he was 16. With apologies to the mentally ill, that's retarded. Hernandez joins the tragically growing legion of fucking-stupid athletes. In his case the highly unnecessary tragedy is compounded by his loss of $19 million over the next 3 years. He was said to be a member of the Latin Kings and then Bristol Bloods. What street gang could pay Aaron that much? I'm waiting for answers.
Hernandez is part Hispanic and part Irish. If he was trying to prove he had a dark mysterious side, then it wasn't worth it, I'm not impressed. Minority ballers seem to be more susceptible to foolish behavior just due to the regular pressure of your peers. Due to their instant celebrity status granted to them since Pop Warner and/or high school, if they go wrong they benefit from pretty-much the same immunity as most bad cops in a big city police union.
I bet much of his behavior is due to the false consciousness instilled in him by pop-culture. Today's entertainment industry has African American and Hispanic males from 14-to-34 behind schedule in maturity and has been since around 1990. A false conscious can cost a real life, black and Hispanic boys have been trained by another faction of false gangsters-hard-core rappers-into underachieving behavior even if they posses vast potential.
In the immediate term Hernandez will be a jail celebrity, this influence unjustifiably has vast powers of suggestion. But in time it will wear off, and he'll be forced to both defend his life and reflect on the life he could of had if only he kept his mouth shut and his ears open There is too many jealous weight-lifting and scheming prisoners for that to not happen. That's when the question will really hit him while licking his wounds in a 9×10 cell, was his playing pretend gangster really worth it? How can his answer be anything other than no?
Most single mama's boys that are locked up or dead, never really understood what being a gangster really is. If they understood how much work it takes, they would stop using the word. Gangsters built communities and large and small businesses from out of the street corners of the world's earliest ghettos. Most of these were inhabited by Jews and Italians. The killing that was publicized and today glorified was just a byproduct of being a gangster, not the primary activity.
On the other hand street gangs like the ones Hernandez associated with and continues to try and prove he comes from are just that, a gang, a group of "niggahs." Nothing more. After 30 or so years of selling crack, heroin, marijuana etc., their gangs are still on the street corner boasting territory still owned by whites, and attitudes inherited from their single mothers. Not sure if Hernandez fell victim to the wrong influence, or if he was the wrong influence. He's done.
http://thebuffalobullet.com/for-some-athletes-its-ok-to-forget-where-you-came-from/
Aug
6
Since I've heard about enough lies involving MeanJarHead, me and All In One, it's time to expose a little truth with the letter I emailed him. Yes, this is not professional, but it just needs to be done.
Let me set you straight on a few things, since your little memory seems to have been messed up.
1, I didn't talk about you to Randall before THREE people at a meeting he was at talked about you.
2, I didn't talk about you to your neighbor Joe, He just doesn't like you, like MOST people don't like you, and he saw US working at Fran's while YOU were nowhere to be found, as usual.
3, YOUR inability to keep records of ANYTHING are part of why I went to jail, I just never told you that because I didn't want you to feel guilty.
4, I'm not the one that was afraid to talk to Wayne, making him not want to deal with you anymore.
5, I didn't walk around Peoria St. doing NOTHING for a while each day before going in the house to do more nothing while the rest of us worked our asses off, YOU did that.
6, YOU sat in the house doing nothing while I froze my ass off siding that garage right next door to your house ALONE
7, You didn't get paid the whopping 67.00 you would have earned in February because YOU told Sierra you quit working with me and were starting your own business without me. BTW, you DID get paid for the one service call you went on on Voris.
8, You not going back to Voris to do a few simple things before Steve had to go to court lost that contract and then you LIED when you said you never got the message until 2 days later. Just like you lie about everything else. Not ONE person believes you were ever a Marine. Not one.
9, You screwed ME on Fran's Garage. Again, as usual, you did the least amount of work and then kept all the money, except the pittance you gave Joe, who did the MOST amount of work. $1500.00 to do a job and I never got paid a dime! Not one penny.
10, YOU gave Tony OUR tools. Not YOUR tools, because they were bought with company money from Wayne on a job you did practically nothing on.
10, The signs, same thing, OUR signs, not YOUR signs. COMPANY signs, which you quit working for in February.
11, Beth knows exactly where we are financially because I give her a report every month, including the money I borrowed from her.
12, Your "friends" in the East Bluff Associations have had it with your stupid jokes and your inappropriate remarks. And I see Jane's name on the attendees list for almost every Thursday meeting, many more times than I see yours.
13, You were a complete do nothing and you still are. All talk. Mr. Know-it-all. When's the last time you did anything to earn a dime?? Put that mailbox up yet?? Take out the trash lately?? Finish the work on the house you screwed me out of that you were supposed to do so you could get lowered rent?? Contributed a penny towards that rent?
14, How do you tell me that you get $2100.00 a month in disability, then 2 weeks later tell Joe you're thinking about applying for disability? For what?? Being lazy?? That's not a disability.
15, Going to a church JUST so your daughter can get a reduced tuition is called a scam. Then making fun of people who DO believe is called being a hypocrite
16, Putting a pic of a marine that's obviously not you in your gallery on PDC is pretty ridiculous.
Trust me, I can keep going. I didn't screw you, you screwed ME and telling your neighbors you want to choke me is laughable. I didn't end our friendship, YOU did.
Jul
14
"We the People of the United States, in Order to form a more perfect Union, establish Justice, insure domestic Tranquility, provide for the common defense, promote the general Welfare, and secure the Blessings of Liberty to ourselves and our Posterity, do ordain and establish this Constitution for the United States of America." 
— Preamble of the original "organic" Constitution
"We hold these truths to be self-evident. That all men are created equal; that they are endowed by their Creator with certain unalienable rights; that among these are life, liberty, and the pursuit of happiness; that to secure these rights, governments are instituted among men, deriving their just powers from the consent of the governed; that whenever any form of government becomes destructive of these ends, it is the right of the people to alter or abolish it, and to institute new government, laying its foundation on such principles, and organizing its powers in such form, as to them shall seem most likely to effect their safety and happiness." 
— Excerpted from the Declaration of Independence of the original thirteen united states of America, July 4, 1776
Fourth of July 2002 has come and gone, and Americans honored the holiday with a renewed patriotic fervor that reminded me of the Bicentennial celebrations of 1976. As is customary, traditional fireworks displays took center stage and scores of people turned out to witness the dazzling show in the summer sky. With mixed feelings, I sat with friends on a crowded Pennsylvania sidewalk beneath a glittering, mesmerizing explosion of color, pondering the keen sense of sadness and betrayal that overwhelmed my spirit. Looking around at the huge crowds gathered for the annual events, I thought silently, "We are not free." In truth, we have not been a free people for a very long time.
We celebrate this day in honor of our "independence". We call ourselves a free people in a land of liberty. Our anthems proudly sing the praises of this nation, and we raise our voices, wave our flags and join in song — but how many Americans realize they are not free? This is a myth perpetuated by the powers-that-be in order to avoid any major civil unrest, and to keep us all living under the thumb of a militaristic corporate Big Brother within the illusions that have been created for us. The truth of the matter is this: what freedom has not been stolen from us, we have surrendered willingly through our silence and ignorance. As Americans, most of us have no idea how our freedoms are maintained — or lost. Apparently, our ancestors didn't have a good grasp of this either. It is sad, but it is also very true.
Don't point to that beloved parchment, the Constitution, as a symbol of your enduring freedom. It is representative of a form of government which seemingly no longer exists in this country today. The Constitution has been thrown out the window, the Republic shoved aside and replaced with a democracy. The thing is; most people in this country remain unaware that this is so because they simply do not know the truth — what lies beyond the myths. Your so-called government is not going to tell you, either.
To even begin to understand what has happened to the Republic, we must look backward in time to the period following the Civil War. We must go back to the year 1871, which was the beginning of the decline of the Republic. When we examine what happened during that time in our history, we begin to piece together this troubling, perplexing puzzle that is "America" — only then should we answer as to whether we are indeed a "free" people or not.
So, let's roll backward into the past for a moment. It is time we learned what they didn't teach us in school. It is far more interesting than what they DID tell us. I think you'll stay awake for this lesson.
---
The date is February 21, 1871 and the Forty-First Congress is in session. I refer you to the "Acts of the Forty-First Congress," Section 34, Session III, chapters 61 and 62. On this date in the history of our nation, Congress passed an Act titled: "An Act To Provide A Government for the District of Columbia." This is also known as the "Act of 1871." What does this mean? Well, it means that Congress, under no constitutional authority to do so, created a separate form of government for the District of Columbia, which is a ten mile square parcel of land.
What??? How could they do that? Moreover, WHY would they do that? To explain, let's look at the circumstances of those days. The Act of 1871 was passed at a vulnerable time in America. Our nation was essentially bankrupt — weakened and financially depleted in the aftermath of the Civil War. The Civil War itself was nothing more than a calculated "front" for some pretty fancy footwork by corporate backroom players. It was a strategic maneuver by European interests (the international bankers) who were intent upon gaining a stranglehold on the neck (and the coffers) of America.
The Congress realized our country was in dire financial straits, so they cut a deal with the international bankers — (in those days, the Rothschilds of London were dipping their fingers into everyone's pie) thereby incurring a DEBT to said bankers. If we think about banks, we know they do not just lend us money out of the goodness of their hearts. A bank will not do anything for you unless it is entirely in their best interest to do so. There has to be some sort of collateral or some string attached which puts you and me (the borrower) into a subservient position. This was true back in 1871 as well. The conniving international bankers were not about to lend our floundering nation any money without some serious stipulations. So, they devised a brilliant way of getting their foot in the door of the United States (a prize they had coveted for some time, but had been unable to grasp thanks to our Founding Fathers, who despised them and held them in check), and thus, the Act of 1871 was passed.
In essence, this Act formed the corporation known as THE UNITED STATES. Note the capitalization, because it is important. This corporation, owned by foreign interests, moved right in and shoved the original "organic" version of the Constitution into a dusty corner. With the "Act of 1871," our Constitution was defaced in the sense that the title was block-capitalized and the word "for" was changed to the word "of" in the title. The original Constitution drafted by the Founding Fathers, was written in this manner:
"The Constitution for the united states of America".
The altered version reads: "THE CONSTITUTION OF THE UNITED STATES OF AMERICA". It is the corporate constitution. It is NOT the same document you might think it is. The corporate constitution operates in an economic capacity and has been used to fool the People into thinking it is the same parchment that governs the Republic. It absolutely is not.
Capitalization — an insignificant change? Not when one is referring to the context of a legal document, it isn't. Such minor alterations have had major impacts on each subsequent generation born in this country. What the Congress did with the passage of the Act of 1871 was create an entirely new document, a constitution for the government of the District of Columbia. The kind of government THEY created was a corporation. The new, altered Constitution serves as the constitution of the corporation, and not that of America. Think about that for a moment.
Incidentally, this corporate constitution does not benefit the Republic. It serves only to benefit the corporation. It does nothing good for you or me — and it operates outside of the original Constitution. Instead of absolute rights guaranteed under the "organic" Constitution, we now have "relative" rights or privileges. One example of this is the Sovereign's right to travel, which has been transformed under corporate government policy into a "privilege" which we must be licensed to engage in. This operates outside of the original Constitution.
So, Congress committed TREASON against the People, who were considered Sovereign under the Declaration of Independence and the organic Constitution. When we consider the word "Sovereign," we must think about what the word means.
According to Webster's Dictionary, "sovereign" is defined as: 1. chief or highest; supreme. 2. Supreme in power, superior in position to all others. 3. Independent of, and unlimited by, any other, possessing or entitled to, original and independent authority or jurisdiction.
In other words, our government was created by and for "sovereigns" — the free citizens who were deemed the highest authority. Only the People can be sovereign — remember that. Government cannot be sovereign. We can also look to the Declaration of Independence, where we read: "government is subject to the consent of the governed" — that's supposed to be us, the sovereigns. Do you feel like a sovereign nowadays? I don't.
It doesn't take a rocket scientist or a constitutional historian to figure out that this is not what is happening in our country today. Government in these times is NOT subject to the consent of the governed. Rather, the governed are subject to the whim and greed of the corporation, which has stretched its tentacles beyond the ten-mile-square parcel of land known as the District of Columbia — encroaching into every state of the Republic. Mind you, the corporation has NO jurisdiction outside of the District of Columbia. THEY just want you to think it does.
You see, you are presumed to know the law. This is ironic because as a people, we are taught basically nothing about the law in school. We are made to memorize obscure factoids and paragraphs here and there, such as the Preamble, and they gloss over the Bill of Rights. But we are not told about the law. Nor do our corporate government schools delve into the Constitution in any great depth. After all, they were put into place to indoctrinate and dumb down the masses — not to teach us anything. We were not told that we were sold-out to foreign interests and made beneficiaries of the debt incurred by Congress to the international bankers. For generations, American citizens have had the bulk of their earnings confiscated to pay on a massive debt that they, as a People, did not incur. There are many, many things the People have not been told. How do you feel about being made a beneficiary of somebody else's massive debt without your knowledge or consent? Are we gonna keep going along with this??
When you hear some individuals say that the Constitution is null and void, think about how our government has transformed over time from a municipal or service-oriented entity to a corporate or profit-oriented entity. We are living under the myth that this is lawful, but it is not. We are being ruled by a "de facto," or unlawful, form of government — the corporate body of the death-mongers — The Controllers.
With the passage of the Act of 1871, a series of subtle and overt deceptions were set in motion — all in conjunction and collusion with the Congress, who knowingly and deliberately sold the People down the river. Did they tell you this in government school? I doubt it. They were too busy drumming the fictional version of history into your brain — and mine. By failing to disclose what THEY did to the American People, the people became ignorant of what was happening. Over time, the Republic took it on the chin to the point of a knockdown. With the surrender of their gold in 1933, the People essentially surrendered their law. I don't suppose you were taught THAT in school either. That's because our REAL history is hidden from us. This is the way Roman Civil Law works — and our form of governance today is based upon Roman Civil Law and Admiralty/Maritime Law — better known as the "Divine Right of Kings" and "Law of the Seas", respectively. This explains a lot. Roman Civil Law was fully established in the original colonies even before our nation began and is also known as private international law.
The government which was created for the District of Columbia via the Act of 1871 operates under Private International Law, and not Common Law, which was the law of the Constitutional Republic. This is very important to note since it impacts all Americans in concrete ways. You must recognize that private international law is only applicable within the District of Columbia and NOT in the other states of the Union. The various arms of the corporation are known as "departments" such as the Judiciary, Justice and Treasury. You recognize those names? Yes, you do! But they are not what you assume them to be. These "departments" all belong to the corporation known as THE UNITED STATES. They do NOT belong to you and me under the corporate constitution and its various amendments that operate outside of the Constitutional Republic.
I refer you to the UNITED STATES CODE (note the capitalization, indicating the corporation, not the Republic) Title 28 3002 (15) (A) (B) (C). It is stated unequivocally that the UNITED STATES is a corporation [seenote]. Realize, too, that the corporation is not a separate and distinct entity from the government. It IS the government. YOUR government. This is extremely important. I refer to this as the "corporate empire of the UNITED STATES," which operates under Roman Civil Law outside of the Constitution. How do you like being ruled by a cheesy, sleazy corporation? You'll ask your Congressperson about this, you say? HA!!
Congress is fully aware of this deception. You must be made aware that the members of Congress do NOT work for you and me. Rather, they work for the Corporation known as THE UNITED STATES. Is this really any surprise to you? This is why we can't get them to do anything on our behalf or to answer to us — as in the case with the illegal income tax — among many other things. Contrary to popular belief, they are NOT our civil servants. They do NOT work for us. They are the servants of the corporate government and carry out its bidding. Period.
The great number of committees and sub-committees that the Congress has created all work together like a multi-headed monster to oversee the various corporate "departments." And, you should know that every single one of these that operates outside the District of Columbia is in violation of the law. The corporate government of the UNITED STATES has no jurisdiction or authority in ANY state of the Republic beyond the District of Columbia. Let this sink into your brain for a minute. Ask yourself, "Could this deception REALLY have occurred without the full knowledge and complicity of the Congress?" Do you think it happened by accident? You are deceiving yourself if you do. There are no accidents or coincidences. It is time to confront the truth and awaken from ignorance.
Your legislators will not apprise you of this information. You are presumed to know the law. THEY know you don't know the law, or your history for that matter, because this information has not been taught to you. No concerted effort has been made to inform you. As a Sovereign, you are entitled to full disclosure of the facts. As a slave, you are entitled to nothing other than what the corporation decides to "give" you — at a price. Be wary of accepting so-called "benefits" of the corporation of the UNITED STATES. Aren't you enslaved enough already?
I said (above) that you are presumed to know the law. Still, it matters not if you don't in the eyes of the corporation. Ignorance of the law is not considered an excuse. It is your responsibility and your obligation as an American to learn about the law and how it applies to you. THEY count on the fact that most people are too uninterested or distracted or lazy to do so. The People have been mentally conditioned to allow the alleged government to do their thinking for them. We need to turn that around if we are to save our Republic before it is too late.
The UNITED STATES government is basically a corporate instrument of the international bankers. This means YOU are owned by the corporation from birth to death. The corporate UNITED STATES also holds ownership of all your assets, your property, and even your children. Does this sound untrue? Think long and hard about all those bills you pay, all those various taxes and fines and licenses you must pay for. Yes, they've got you by the pockets. Actually, they've had you by the ass for as long as you've been alive. In your heart, you know it's true. Don't believe any of this? Read up on the 14th Amendment. Check out how "free" you really are.
With the Act of 1871 and subsequent legislation such as the purportedly ratified 14th Amendment, our once-great nation of Sovereigns has been subverted from a Republic to a democracy. As is the case under Roman Civil Law, our ignorance of the facts has led to our silence. Our silence has been construed as our consent to become beneficiaries of a debt we did not incur. The Sovereign People have been deceived for hundreds of years into thinking they remain free and independent, when in actuality we continue to be slaves and servants of the corporation.
Treason was committed against the People in 1871 by the Congress. This could have been corrected through the decades by some honest men (assuming there were some), but it was not, mainly due to lust for money and power. Nothing new there. Are we to forgive and justify this crime against the People? You have lost more freedom than you may realize due to corporate infiltration of the so-called government. We will lose more unless we turn away from a democracy that is the direct road to disaster — and restore our Constitutional Republic.
In an upcoming article, we'll take a closer look at the purportedly ratified 14th Amendment and how we became "property" of the corporation and enslaved by our silence.
I am saddened to think about the brave men and women who were killed in all the wars and conflicts instigated by the Controllers. These courageous souls fought for the preservation of ideals they believed to be true — not for the likes of a corporation. Do you believe that any one of the individuals who have been killed as a result of war would have willingly fought if they knew the full truth? Do you think one person would have laid down his life for a corporation? I think not. If the People had known long ago to what extent their trust had been betrayed, I wonder how long it would have taken for another Revolution. What we need is a Revolution in THOUGHT. We change our thinking and we change our world.
Will we ever restore the Republic? That is a question I cannot answer yet. I hope, and most of all — pray — that WE, the Sovereign People, will work together in a spirit of cooperation to make it happen in this lifetime. I know I will give it my best shot — come what may. Our children deserve their rightful legacy — the liberty our ancestors fought so hard to give to us. Will we remain silent telling ourselves we are free, and perpetuate the MYTH? Or, do we stand as One Sovereign People, and take back what has been stolen from the house of our Republic?
Something to think about — it's called freedom.
http://www.serendipity.li/jsmill/us_corporation.htm
Jul
4
What a turn of events in the last year.
I had my kids for the 4th this year and we went to the River to see the fireworks, which were spectacular. But that's not the miracle.
When I took them home, Bridget came out to greet them and then stayed outside while we let them light sparklers and throw those snapper things and for just that few minutes, it was a Mother, a Father and their children celebrating the 4th together. Wow.
I'm overwhelmed. Thank you for that, Jesus.
Jul
2
This is taken from "An Analysis of the Presidents Who Are Responsible For Excessive Spending", by Steve McGourty. The original page for it was here;
http://www.cedarcomm.com/~stevelm1/usdebt.xls
But since it is no longer up I wanted to share it with you here.
The chart below shows the United Stated national debt (per Microsoft's Encarta Encyclopedia[1]) with the various Presidents' terms marked by vertical lines. Under Clinton the growth in debt ceased, but note the radical change in direction debt has taken since George W. Bush entered office. There is no question that the steepest upward rises in debt take place when Conservative Republican Presidents are in office (see red below).
Since 1938 the Democrats have held the White house for 35 years, the Republicans for 31. Over that time the national debt has increased at an average annual rate of 8.9%. The Democratic yearly average (that is the years Democrats were in the White House) was an increase of 8.7%. The years while the Republicans ran the White House, during this same period; the debt increased an average 9.1% per year. Those averages are pretty close.
If you look at the debt starting with Truman's term (and remove Roosevelt's WWII debt) the difference between the two parties contributions to our national debt level change considerably. Since 1946 the Democratic Presidents increased the national debt an average of only 3.7% per year when they were in office. The Republican Presidents stay at an average increase of 9.1% per year. Over the last 57 years Republican Presidents have out borrowed Democratic Presidents by more than a two to one ratio. That is, for every dollar a Democratic President has raised the national debt in the past 57 years Republican Presidents have raised the debt by $2.47.
Prior to the Conservative take over of the Republican Party there was not much difference between the two parties debt philosophy, they both worked together to minimize it. However the debt has been on a steady incline ever since the Reagan Presidency. The only exception to the steep increase over the last 23 was during the Clinton Presidency, where he brought spending under control and the debt growth down to almost zero.
Comparing the borrowing habits of the two parties since 1981, when the Conservative movement really took hold, it is extremely obvious that the big spenders in Washington are Republican Presidents. Looking at the only Democratic President since 1981, Clinton, who raised the national debt an average of 4.3% per year; the Republican Presidents (Reagan, Bush, and Bush) raised the debt an average of 10.8% per year. That is, for every dollar a Democratic President has raised the national debt in the past 23 years Republican Presidents have raised the debt by $2.52. Any way you look at it Conservative Republican Presidents can not control government spending, yet as the graph above clearly shows, Clinton did.
Truman, Eisenhower and Kennedy all worked vigorously to keep spending under control. Of the seven years Truman was in office, the national debt came down in four of those years. Three of the eight years Eisenhower served as President saw debt reduction. Kennedy reduced the debt by over 4% his first year in office, then it went up slightly his next two years. While the debt did go up every year during Johnson's time in office, he was the last president before Clinton to submit a balanced budget. Johnson's average was a debt increase of 3% for the five years he served.
Even Nixon only had one year where he raised the debt more than 6%, his average was 5% for the six years he was in office. Between uncontrolled inflation and Ford's conservative bend the debt increased 17% his first year in office, 13% his second. Ford also had a policy imposing price controls that failed.
Carter tried to control government spending even during inflationary times. He increased the national debt 9% per year while he was in office, and started to bring inflation under control.
President Reagan repeatedly called for a balanced budget amendment to the Constitution, yet never submitted a balanced budget himself. Many blame the Democratic Congress for the "big spending" during his administration. The facts are that Reagan was able to push his tax cuts through Congress, but he never pushed through his reduced spending programs. His weak leadership in this area makes him directly responsible for the unprecedented debt increase that took place during his time in office. The debt increased at an average of 13.8% for every year Reagan was in office, the highest average of any President since this nation was founded, and he still holds that record. From 1983 through 1985 the debt was increasing at over 17% per year. While Reagan was in office this nation's debt went from just under 1 trillion dollars to over 2.6 trillion dollars, a 260% increase. The sad part about this increase is that it was not to educate our children, or to improve our infrastructure, or to help the poor, or even to finance a war. Reagan's enormous increase in the national debt was not to pay for any noble cause at all; his primary un-apologetic goal was to pad the pockets of the rich. The huge national debt we have today is a living legacy to his failed Conservative economic policies. This unwanted weight continues as an onerous burden on this nations financial resources.
George Bush Sr. meekly followed in Reagan's shadow, by increasing the debt on average a mere 11.8% a year during his four years as President. His last year in office he worked with Democrats to raise taxes to help reduce the massive yearly increases in debt, it was too little too late and didn't make much difference in the overall trend, but the Conservatives threw him out of office for it any way.
President Clinton inherited the deficit spending problem and did more than just talk about it, he fixed it. In his first two years and with a cooperative Congress he set the course for the best economy this country has ever experienced. Then he worked with what could be characterized as the most hostel Congress in history for the last six years of his administration, yet he still managed to get the growth of the debt down to 0.32% (one third of one percent) his last year in office. Had his policies been followed for one more year the debt would have been reduced for the first time since the first year of the Kennedy administration.
The current President Bush came into office and quickly turned all that progress around. He immediately gave yet another massive tax cut based on a failed economic policy. The last year Clinton was in office the nation borrowed an additional 18 billion dollars, the first year Bush Jr. was in office he had to borrow 270 billion. The tax cut that caused this borrowing was supposed to stimulate the economy, but two years later Bush had to push through yet another tax cut. The second tax cut was needed because it was clear that the first one did not work. Economic history tells us the second one won't work either. As a result of all this tax cutting and no cutting in what he is spending Bush will set a record in 2003 for the biggest single yearly increase in debt in the nation's history, by his own estimations he will break this record again in 2004. The debt is now increasing at the rate of 500 billion dollars a year[2]. Even Reagan never increased the debt that much in a single year; Reagan's biggest increase was only 282 billion, half of Bush's outrageous spending. As a result of the fact that the debt was already pretty high when Bush Jr. entered office his annual rate of increase is only averaging 7% per year, so far.
History has shown that the "trickle down theory" does not work. Hoover tried the "trickle down theory" (his words) to solve the economic problems the last few years of his only term, when the greatest economic depression this country has ever faced began, it did not work and things got worse. Roosevelt got into office, raised taxes on the rich, created jobs for the poor and turned things around. Reagan employed the failed theory again in the '80's and again it did not work. The rich got richer, but the poor got poorer and so did the economy. Bush Sr., with no vision of his own, continued the failed policy of his immediate predecessor. Clinton took a more progressive approach and turned the model upside down. Instead of making the rich richer in the hope that they will spend that money and thus create demand and therefore jobs, he created a tax environment that encouraged the creation of jobs and created an economic environment where everyone could get rich, not just a few, and it worked. Lots of jobs and lots of new millionaires were created while he was in office. Bush Jr. came in and once again applied the old trickle down model and immediately created a need to raise the debt to pay for an unneeded tax cut in 2001. Predictably the nation is now loosing jobs and there are fewer millionaires. Not learning from his past mistakes Bush pushed through yet another tax cut in 2003. Since he is not learning from his mistakes, it is apparent that we must teach him an obvious lesson in the next election; you screw up the economy you do not get or deserve a second term.
While it is a great sound bite, the facts show that the Republican "tax and spend" rhetoric about Democrats is not based on the facts. The facts do show that it takes a Democratic President to control and reduce spending. The truth is that the Republicans are the party of "borrow and spend". They hate taxes, but love to spend; their solution is to put off till later paying for their security today, they prefer to see our children pay our taxes. Conservative thinking has run up over a 6 trillion dollar debt that will not be paid off for a generation or more, and it is still increasing at a record setting rate with no end to the increases in sight.
In 2002 the debt tax was eighteen cents out of every federal tax dollar. This tax is used to pay the interest on the existing national debt, and puts nothing toward principal. If Conservatives really want to lower our taxes, they should lower the debt tax. That would insure a permanent tax cut for the whole country (but it would not help them with their apparent goal to further concentrate the nation's wealth in the hands of a few).
There has been an interesting transition taking place in the nation's political parties over the last 20 years. Back when Reagan was elected the first time the majority of the Republican Party believed in responsible spending. Controlling government spending was one of the major grass roots objectives that Reagan touted in his many campaign speeches, it use to be a Conservative pillar. The Democrats wrongly defended deficit spending at the time. Once Reagan got into office he kept talking about needing a balanced budget amendment to the Constitution. Yet all the while he was giving lip service to the idea of smaller government, behind our backs he was growing it to unprecedented size, giving tax cuts to the rich and astronomically increasing the debt. He obfuscated the issue so well that here we are 23 years later and it seems the only party that got the message was the Democrats, both at the grass roots level and at the national level. Most of the folks talking about responsible government spending these days are Democrats, and the Republicans are curiously silent on the issue of debt reduction (and term limits). Where have all the Republican deficit hawks gone?
This missive is clearly biased against deficit spending, but getting past the rhetoric certain facts still stand. Since the Conservative movement has become the dominate force in the Republican Party the national debt has grown and continues to grow at unprecedented rates. In addition experience has shown that "trickle down tax cuts" only work to concentrate the nation's wealth into fewer hands and never help to rebound the economy.
Fortunately our nation is fundamentally strong and it has always had the strength to overcome bad Presidents and their failed economic policies in the past; it can and will endure the downward vortex of this misguided Conservative trend as well. However, for the sake of our nation and our jobs, let us all hope that we see an end to the dominance of the disastrous Conservative economic polices soon[3].
[1] The debt totals in Encarta show the actual amount of money borrowed by the United States in a given year. This total is often different, and typically larger than the total a given budget might have stated. Budgets are planning documents; the borrowed totals given here are what actually happen. That is why even though the proposed budget was balanced during Bill Clinton's last few years, the debt shown here shows an increase. The budget was balanced but the nation still borrowed more money than the budget predicted, or the treasury brought in.
[2] In 2003 Bush's increase of the debt will be 26 times greater than Clintons last year in office, 462 billion v. 18 billion. In a matter of only two years spending has gotten completely out of control.
[3] It is interesting to note that both John and John Quincy Adams were one term Presidents. Perhaps the Bush Presidencies will parallel them in this regard as well.
Jun
29
When it comes to marijuana legalization, the pot-scented winds of change are blustery. It's sometimes hard to read the prevailing winds.
Eighteen states have legalized the use of marijuana for medical use. New Hampshire looks likely to be come No. 19. Last November, voters in Colorado and Washington took legalization a step further by approving the use of cannabis for recreational use.
But the new Colorado law allows every municipality to regulate retail sales of marijuana for recreational use – or opt out. On Thursday, some 60 residents turned out for a Colorado Springs City Council meeting held to give residents an opportunity to share their views. And if this meeting is any indication, the debate on marijuana legalization continues at the local level.
The Gazette in Colorado Springs reported:
"Selling marijuana in retail stores could lead to more traffic crashes and fatalities, said Colorado Springs Police Chief Pete Carey. On the other hand, selling marijuana could boost the economy with jobs and sales tax revenue. For every point there was a counterpoint as residents in a standing-room only hall waited patiently to speak."
the new state law requires each city to decide on whether to allow marijuana sales – or not – by Oct. 1. Colorado Springs City Council member Jan Martin said they expect to make a decision by July 23.
So far, 34 Colorado cities and counties have banned retail marijuana sales; 25 cities or counties have put a moratorium on sales and will take action at a later date, said Ms. Martin, according to The Gazette.
Rosemary Harris Lytle, president of the NAACP Colorado/Montana/Wyoming State Conference, spoke out in favor of Colorado Springs retail sales. The NAACP endorsed Colorado's Amendment 64, "because of the impact of incarceration on young men and women of color," she said. "We know from our research that possessing a joint has great impact on the lives of young people."
Similarly, on June 25 the NAACP came out in favor of a bill allowing recreational use of marijuana in Pennsylvania.
The NAACP says that the war on drugs in America unfairly targets minorities and that there is a "staggeringly disproportionate" arrest rate compared with white drug users, according to The Patriot News.
"The war on drugs is a catastrophic failure," said David Scott, chair of the Legal Redress Committee for the Cheltenham Area Branch of the NAACP and a former deputy chief of police. Scott cited an ACLU study that sees a racial bias in the prosecution of marijuana users.
While the Pennsylvania marijuana legalization bill is not expected to pass, it's indicative of how the issue continues to roil.
This past week, the New Hampshire legislature passed a bill that would make it the 19th state to allow for medical marijuana use.
The Associated Press reports that "the bill allows patients diagnosed with cancer, Crohn's disease and other conditions to possess up to 2 ounces of marijuana obtained from one of four dispensaries authorized by the state. To qualify for medical marijuana, a person would have to have been a patient of the prescribing doctor for at least 90 days, have tried other remedies and have exhibited certain symptoms. Only New Hampshire residents would qualify.
The [new New Hampshire] dispensaries could have a maximum of 80 marijuana plants, 160 seedlings and 80 ounces of marijuana or 6 ounces per qualifying patient. They also would have a limit of three mature cannabis plants, 12 seedlings and 6 ounces for each patient who designates the dispensary as a treatment center."
New Hampshire Gov. Maggie Hassan has said she will sign the bill into law.
Meanwhile, in California, where medical marijuana use has been legal since 1996, the state's Supreme Court ruled inMay that cities and counties can ban medical marijuana dispensaries. A few weeks later, Los Angeles voters approved a ballot measure that limits the number of pot shops in the city to 135, down from an estimated high of about 1,000. And earlier this month, federal authorities in California began a crackdown on some 100 pot clinics in Los Angeles County.
Mar
18
One of the things I miss about Buffalo is the spirit and sense of community that I don't see here, in Peoria, at the same level. One of the things that promotes that is the Best Of Buffalo nominations each year, sponsored, and started by Nightlife Magazine, a weekly Arts & Opinion paper (That I also miss a lot). So I'm going to start this right now. I might even make up cool awards and then see if this can gain momentum and grow into something that generates city-wide excitement.
After about a month's time taking votes, it culminates with a cool awards ceremony/event at one of the better nightclubs, which is attended by almost everyone that's nominated.
So I'm going to start this right now. I might even make up cool awards and then see if this can gain momentum and grow into something that generates city-wide excitement.
Try to answer as many as possible.
So, here's the list, for Peoria. (I also posted it on Peoria.Com)
Our City, Our People
Best Activist Group
Best Individual Activist
Best Twitter Feed
Best Blog
Best Print Journalist
Best Radio Personalities
Best TV Personality
Peoria's Biggest Booster
Best Annual Festival
Best Annual Fundraiser
Best New Idea for Peoria
Best Bike Ride
Best People Watching Spot
Best Picnic Spot
Best Place to View The River
Biggest Scandal of the Year
Peoria's Biggest Naysayer
Most Overcovered Story
Must Undercovered Story
Politician Who Should Lose His Job This Year
Person Who Ought to Take His Place
One Thing You Hope Will Happen
Dining Out
Best Bagel
Best Bar Food
Best BBQ
Best Brunch
Best Buffet
Best Burger
Best Cheap Eats
Best Chef
Best Chinese
Best Coffee
Best Deli
Best Dessert
Best Diner
Best Fish Fry
Best French
Best French Fries
Best German
Best Greek/Mediterranean
Best Hot Dog
Best Ice Cream/Frozen Yogurt
Best Indian
Best Italian
Best Mexican/Tex-Mex
Best Middle Eastern
Best New Restaurant
Best Breakfast
Best Patio
Best Pizza
Best 2AM Eats
Best Polish
Best salad
Best Sausage
Best Seafood (Not Fish Fry)
Best Soul Food
Best Soup
Best Steak
Best Street Food
Best Sub
Best Sushi
Best Takeout
Best Thai/Vietnamese/Burmese
Best Vegetarian
Best Wings
Chain Restaurant We Need Most
Nightlife
Best Bartender
Best Beer Selection
Best Bowling
Best Dive Bar
Best Gay Bar
Best Happy Hour
Best Hookup Joint
Best Jukebox
Best Karaoke
Best Live Music Venue
Best Neighborhood Pub
Best New Bar
Best Place for Darts
Best Place to Dance
Best Place to Shoot Pool
Best Place to Watch a Game
Best Strip Club
Best Upscale Bar
Best Wine List
Bar You Miss the Most
Music
Best Acoustic Act
Best Blues Act
Best Classical Musician
Best DJ
Best Country Act
Best DJ Crew
Best Female Vocalist
Best Hip-Hop Act
Best Vocal Ensemble
Best Jazz Act
Best Male Vocalist
Best Open Mic Night
Best Original Music Act
Best Rock Act
Best Soundman
The Fine Arts
Best Actor/Actress
Best Burlesque Performer
Best Dance Company
Best Dancer
Best Drag Performer
Best Genre-defying Artists
Best Movie Theater
Best Painter
Best Photographer
Best Poet
Best Sculptor
Best Spoken-word Artist
Best Standup Comic
Best Theater Company
Best Up-and-coming Art Space
Best Video/Film Artist
Best Writer
Best Cultural Asset
Best Supporter of the Arts
Shops & Services
Best Antique Shop
Best Auto Mechanic
Best Bakery
Best Barber
Best Bike Shop
Best Bookstore
Best Butcher
Best Car Dealer
Best CD/Record Shop
Best Day Spa
Best Fish Market
Best Florist
Best Furniture/Home Decor
Best Gift Shop
Best Hair Salon
Best Head Shop
Best Health Club
Best Jewelry Store
Best Liquor/Wine Store
Best Massage (Licensed)
Best Mens Clothing
Best Music Store
Best New Shop
Best Organic Food
Best Outdoor Market
Best Pedicure/Manicure
Best Pet Store
Best Piercings
Best Yoga
Best Place to Find Cool T-shirts
Best Plumber
Best Produce
Best Shoe Store
Best Sporting Goods/Outdoor Store
Best Tanning
Best Tattoos
Best Thrift Shop
Best Women's Clothing
Best Veterinarian
Best Pet Grooming
Jan
6
That was my Facebook status that I put up on January 8th of last year. It was the day I walked into Riverside Community Church for the first time and my life was completely changed in a very radical way. It was the day I knew, finally, that God was real and was searching for me because he had a plan for my life.
So, what has changed?? Am I richer, financially? No. Actually, I may be worse off. Do I have a shiny new car now? No. But I do have a car, something I didn't have last year. It takes a prayer before I drive it each time that it won't break down, but it hasn't failed me yet. Do I have a great job now? No, but I have started a business that focuses on doing God's work, in making a better place for the people of this city and gives me a chance to be an influence on my community with the Grace of God behind me.
Do I have a wonderful relationship with the woman of my dreams?? No. I'm still single. Painfully single, although something has happened recently that I may write about some day. Am I less homesick?? No, but while I no longer ache to flee back to Buffalo, I'm homesick instead for my place in my home in God's Kingdom of Heaven.
Have I made peace with my enemies?? No. Actually, I've been to jail because of one conflict. Am I no longer a sinner?? No. unfortunately, I'm one of the worst sinners I know. My flesh is weak.
So, what has really changed? Well, everything that matters. I'm alive. I'm free. I've been reborn into a community of people who are also alive and free and who have shown me every day that God is real. Jesus is real. The blinders have been lifted.
I may be weak
Your spirit's strong in me
"My flesh may fail
My God you never will
Had I not walked into that church, on that day, I would surely be dead now. A rotting body in a shallow grave. A rotting soul in Hell. If I wasn't dead, I would be even more dead inside than I was on January 7th. I would still be suffering in a cold and lonely place, but now I walk in the light of God. Jesus is my savior.
With everything, with everything
We will shout for Your glory
With everything, with everything
We will shout forth Your praise
Today, at Church, something happened to me.
I was once again filled with the presence of God, just like a year ago. I was again brought to tears by this presence. Just like a year ago, and I was again given a vision. This time, though, it wasn't a cold and empty place of utter darkness, like a year ago, but instead I was transported to a great hall. The presence of God filled the room and swirled around me and I knew God is alive and he is here. Here onn Earth and in in Heaven. In all things and all places and he loves us. All of us. Even me. He wants us all to join his party in this great hall and he has promised us a way to get there. By his son, Jesus Christ.
Hallelujah, holy, holy
God Almighty, the great I AM
Who is worthy, none beside Thee
God Almighty, the great I AM
Jesus Reigns!
Something Happened To Me Today…
Nov
13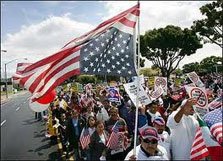 I'm seeing Americans post photos of our Flag hung upside down because the President won reelection. They're defending this action as a "Naval sign of distress". Let me tell you something: you are not on a battleship, you are a manager at McDonalds in Follansbee, WV, and you are in fact, a lunatic.
I've avoided "spiking the football" over a great night for the President and for common sense in the Senate – Richard Murdock and Todd Akin deserved more than a loss. But I've held off, because I respect, am friends with, and on certain issues agree with, many patriotic Republicans who work hard to make this country a better place and simply disagreed with who should be Commander in Chief. That's fair and healthy.
And, I also didn't spike the football because I've lost elections before and I know how terrible it feels.
It's called maturity and not enough people in either party have it.
The following jaw punch is not directed at common sense Republicans, nor does it condone radicals on the Left. It is directed at the right wing fanatics who put party before country, conspiracy before reality, and ideology before science and intellect.
To Tea Party Patriots and hardcore Religious Engineers:

Republicans lost because their party leadership and most candidates feared you, listened to you, and looked the other way on important issues as you picked the dumbest, craziest nominees in key primaries (Murdock and Akin), or converted otherwise sensible, experienced candidates to Crazy Town (Romney).
There's nothing wrong with wanting limited government. I do. There's nothing wrong with believing in God, the Golden Rule, or wanting to reduce abortions. I do, too. But you've taken it too damn far and scare the shit out of people you could otherwise persuade.
Yes, the message and messenger matter (you're failing at both, BTW), but no Madison Avenue P.R. firm, K Street lobbying firm, Fox News "analyst", or local chapter of "Freedom Works" can sell the flaming dung you're slinging.
Smart people can lose. But smart people always learn.
You didn't lose because you "weren't conservative enough" or because the country has become full of lazy "takers" who don't want to earn a living or just want America to "turn in to Europe".
You didn't lose because of Hurricane Sandy or because Chris Christie hugged the President on TV – they were both doing their jobs.
You didn't lose because of a liberal media, liberal college campuses, liberal polls that were "weighted to Democrats" (mostly because they were accurate), or because of "election fraud"… actually, that probably benefited you this time.
No. You lost because your policies, tone, conspiracies, rigid inflexibility and irrational rhetoric helped align enough moderates, swing voters, and minority groups whom otherwise could be persuaded by Republicans, to align with Democrats and a beatable incumbent.
It's not that you didn't get your message out, it's that we all actually heard it and threw up a little in our mouths.
There isn't a mandate for Democrats in this election. Liberalism wasn't rewarded in this election. However, calm pragmatism, compassion, working together, compromise and sincerity were rewarded. People may not have agreed with President Obama, but more felt he was sincere and that he understood their daily problems, fears, and dreams. If you don't trust what the polls say, take a look at who is sworn in on January 20th. I thought you'd at least believe in Math when it came to counting to 270.
Sincerity is the only thing in politics you can't fake. You can't teach it. No matter how shiny a candidate's bio is, how smooth he is, or how perfect the gray hairs rest on his temples — any average Joe on the street can spot a bullshitter.
Mitt is a generous and good man, but he didn't know who he was or "needed" to be at any given time in that campaign. That's largely his fault for lacking core convictions or personal toughness (Ronald Reagan and George W. Bush possessed both traits – that's why they won).
But you, the right wing base of the party, who drove so many of us moderate republicans out the door years ago, were the main catalyst. Your inability to reason, compromise, or let new facts and evidence challenge your predetermined outcomes led millions of moderates to no longer be able to stand on stage with you.
Frankly, you're embarrassing – more so than a crazy family member at dinner, or having your mom drop you off at a high school dance.
You say stupid shit and look stupid saying it.
You pass amendments to ban flag burning and then hang it upside down and post it on Facebook when you lose.
You preach limited government in the economy when Democrats are in charge and then look the other way when you're in charge.
You want a government small enough to stay out of corporations and banks but big enough for bedrooms and hospital respirators (see Schiavo, Terri).
There's a hatred inside of you that burns in a way that scares normal people.
You made unlikely allies in large corporations who are more interested in tax breaks and loopholes even if the government has to cut your Medicare and Social Security or cut education to a point where states and local governments have no financial choice but to educate your children in portable trailer classrooms with 35 other students.
Would these corporations do this just to help pad their quarterly earnings reports with certain tax and regulatory policies? You bet your sweet ass they do. And you better believe they're happy to have you make the "freedom" argument as "concerned citizen patriots" on their behalf.
Yet, after those corporations spent billions on TV adds and herded you like sheep over the last half decade to discredit Barack Obama for everything from being a "Godless communist" — to his "being born in Kenya and hatching a secret plot to take down America" — to Obamacare's "death panels and job killing regulations" -
YOU still lost.
After having a Senate Republican Leader state that his party's top priority in Congress was to make "Obama a one term President" and a House of Representatives that blocked everything he tried to do and then had the brass to criticize him for "not getting anything done" -
YOU still lost.
After attacking gay people who want equal protection under the law (BTW, I'm referring to the 14th amendment to the constitution, I know you forget most of the amendments after the 2nd one) -
YOU still lost.
After attacking the Hispanic community who's tired of being spoken "at" like criminals, attacking low income women who rely on Planned Parenthood for services of which 98% have nothing to do with abortion, and attacking relatively trivial things like PBS that children and adults enjoy as "1″ damn television channel that doesn't include Honey Boo Boo or a "Fox News Breaking Alert" announcing Obama's latest "Czar" appointment -
YOU still lost.
And after throwing all the red meat in your warped political base out to the rest of the country to eat, the majority of Americans weren't hungry for it and didn't trust ordering from your unhealthy, de-regulated menu -
YOU still lost.
You can read me the constitution, but you clearly don't have a practical understanding of what you've read, heard on television, or forwarded to your entire email list of like minded xenophobes.
This country is great because our founders were smart enough to limit the government's power and give the people enough freedom and authority to correct their own mistakes in pursuit of a "more perfect union" (it's in the first damn line of the Preamble, in case you can't find it in your Tea Party Constitution Cliffs Notes).
Our founders were utterly brilliant and sophisticated. I don't like to speak for them, but I doubt they would have been friends with Glenn Beck or Rush Limbaugh or Sarah Palin. Nah, they wouldn't have made the guest list at Mt. Vernon or Monticello.
But let's be clear, our founders weren't perfect. They owned slaves. Only White male property owners had a say in things. Women, blacks, native americans, and other constituencies had to wait for an American dream and in many cases, are still waiting and working for it. Speaking of work, children were working 12-16 hour days with zero safety protections in statute. Zero.
The constitution, subsequent amendments and Supreme Court rulings and opinions since 1800 aren't perfectly clear (those who think they are tend to have had a healthy serving of Kool-Aid and have never watched oral arguments at the Supreme Court).
The founders knew that they, and the constitution they drafted, weren't perfect. This is why they added a Bill of Rights and why they created a Supreme Court and a process that has allowed us to add 27 amendments to their work of art.
Their imperfection is what led to a Civil War to prove that human and civil rights aren't a "states' rights issue" – they're endowed by our creator, not by legislatures in Mississippi or Alabama, and they're protected equally in our constitution, but also in our democratically passed laws.
I run from the Capitol steps to the Lincoln Memorial most mornings that I'm in Washington. I may not be fast or smart, but I can read what's carved in stone.
Please. I welcome a challenge to what I've said. If you think because I voted for President Obama that I'm a socialist or that I don't want a better America, I'm happy to take time from running a business I've co-founded and time from money I'm trying to raise for Big Brothers Big Sisters of America to pause and give you a fresh one. At no charge.
But I do ask this: be a real Patriot. Look at that flag you've hung upside down. Look at what you've done to it and what that means. Thousands of our bravest men and women, braver than me, just lost limbs and in many cases their lives so that Iraqis and Afghanis could vote however they see fit. I did that on Tuesday and so did you. That's what that flag stands for – equal access to a process, not a guarantee for any of our desired outcomes.
A country that defeated Hitler, Mussolini, and bin Laden won't crumble because the guy you wanted to be President got beat.
You lost. Now learn from it.
Sincerely,
Guest Contributor, Rob Ellsworth, "A Proud American"